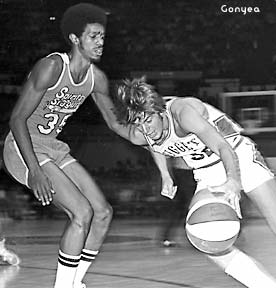 We took advantage of a rare good deal offered by a major league sports fanchise last night, attending the Nuggets-Knicks game on Family Night, when we were able to purhase four tickets, four pizzas, four soft drinks and four $10 ESPNZone certificates for $59. When you consider that a pizza and a soft drink by themselves are worth ten dollars -- scratch that: the pizza and soft drink were worth maybe $3.50, but they
cost
ten dollars. Still, it was a relative bargain.
It was also Super 70s Night, which wasn't heavily advertised before the game, else I might have worn my Styx Paradise Theater concert T-shirt. This was marked mostly by playing "Boogie Shoes" and several selections from
Off the Wall
during the timeouts.
Also, the following:
* Coming into the arena parking lot, fans were subject to a half-hour-long gas line.
* Rather than the customary pregame Bible study class, the players celebrated a guitar Mass.
* The first 10,000 fans entering the arena received a free copy of Erica Jong's
Fear of Flying.
* The national anthem was sung by the Starland Vocal Band.
* Pregame lineups were read over the PA by Don Cornelius.
* All black players wore Afros; all white players parted their hair in the middle and feathered it. Every player was required to play with a wide plastic comb tucked into his back pocket.
* There was a special halftime appearance by Dickie Goodman.
* All players were required to do a line before the game, and another at halftime.
* The Player of the Game, as chosen by the announcers, got to make a special appearance on
Fantasy Island
.
* If the Nuggets reached 110 points, all fans received a free Pillsbury Space Food stick.