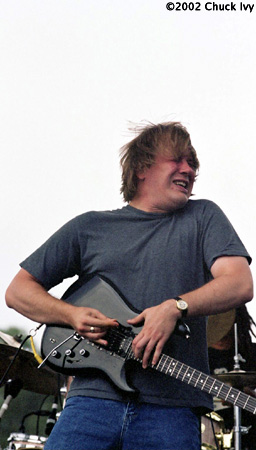 Jeff Healey, Canadian guitarist, dead at the age of 41. He died from retinoblastoma, the same type of cancer that had cost him his eyesight as a small boy.
Healey became famous from his role in the Patrick Swayze B-movie
Road House
, in which Healey played guitar at the film's eponym. (Healey did not appear in the 2006 sequel
Road House 2: Last Call
.) Like Fassbinder's
Love Is Colder Than Death
,
Road House
remains unseen by me.
The Jeff Healey Band also had one hit, "Angel Eyes," which went all the way to Number Five in the late summer of 1989. What was most notable about that song was its obsession with vision: in addition to its title, it was from an album called
See the Light
, and its opening lines were "Girl, you're lookin' fine tonight/I wouldn't know because I'm blind, no sight."
OK, just a little joke there at the expense of someone who is both blind and dead, which I'm certain I'll pay for one of these days. The song, which was written not by Healey but by John Hiatt, actually begins: "Girl, you're looking fine tonight/And every fella's got you in his sights."
Healey was also known for playing his guitar across his lap, like a pedal steel. I have no idea if his blindness had anything to do with that, but I doubt it. Jose Feliciano plays it normally.

Photo by Chuck Ivy, from the Web site photo.phui.com