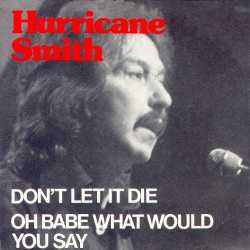 Friend of OPC RS writes in with news of the death of Hurricane Smith, progenitor of "Oh Babe, What Would You Say," which RS calls "perhaps the most Nawrockian record ever made." I'm not thrilled to be forever linked with melodic, undercooked pop tunes sung off-key by middle-aged Brits, but such is life. Smith was 85.
Born Norman Smith, Hurricane's most important accomplishment was probably serving as the Beatles' engineer on all their records up through
Rubber Soul
. He was then promoted to staff producer at EMI, and was replaced in his old role by
Geoff Emerick
. Smith then went on to produce Pink Floyd's
Piper at the Gates of Dawn
,
Saucerful of Secrets
, and
Ummagumma
.
Smith adopted the name Hurricane (which I'm sure he pronounced ER-i-ken, being English and all) and began making his own records in 1971, at the age of 48, which is positively decrepit for a pop star. He cut a demo of "Oh Babe, What Would You Say" as a prelude to having someone else record it, but producer Mickie Most persuaded him to release the demo instead, which is why the record sounds so thin and chintzy. Nevertheless, it went all the way to Number Three here in the U.S. in the early part of 1973. Smith turned 50 while the song was still on the Billboard charts.
For the record, the song that best encapsulates my ethos - which is far different from my favorite song, or what I think is the best song - would probably be "The Rain, the Park and Other Things" by the Cowsills.
Here's a homemade video for "Oh Babe," featuring some shots of the Hurricane himself: