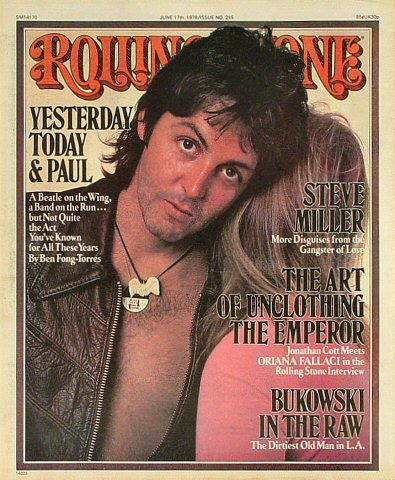 Amid all the Beatlesiana going on here today, we neglected to note that it is Paul McCartney's birthday today. Sir Paul is 66 years old today, as is Roger Ebert - yes, those twin titans of modern culture were born on the exact same day. Yoko was probably more likely to send a card to Roger than to Macca.
Hey, since we've discussed how the Beatles broke up ad nauseum, do you guys know why Wings broke up? It was after McCartney got busted for possession in Japan, and spent nine days in a Tokyo jail. (Those were, incidentally, the first nights he had spent apart from Linda in all the days of their marriage.) He was there on tour with Wings, but that all ended when Sir Paul got deported from the Land of the Rising Sun. They never rescheduled that tour, and after sitting around doing nothing for a year or so, Denny Laine announced he was leaving the group, and that was more or less it.
But, there is some good news for all you "Junior's Farm" fans: Denny Laine and a couple of non-McCartney members played a Wings reunion gig in Vegas last year, and are now considering going on tour. Without McCartney. This is rather like making an omelet without any eggs.