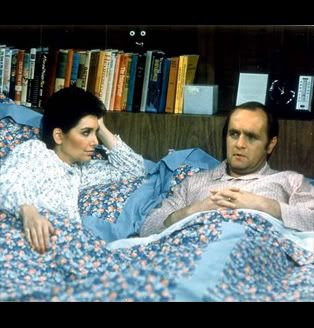 Suzanne Pleshette, the throaty brunette best known for her work with Bob Newhart on the seminal
Bob Newhart Show
, dead at the age of 70. Miss Pleshette's work outside of that important series was unexceptional, aside from being pecked to death in Alfred Hitchcock's
The Birds
, yet her passing is certainly more significant and more deeply mourned than will be that of Mary Frann.
Emily Hartley had a singular occupation - the stay-at-home mom without any kids (yes, she was a substitute elementary schoolteacher, but how often did she do that?), and in an apartment no less, so there wasn't even really a house to keep. Maybe Howard kept dropping in for a reason. Still, Bob seemed devoted to her - who wouldn't be? - and she to Bob, such that when he was winding down his second, lesser series, she returned for the greatest final episode in television history. When Newhart told her of his idea for ending that show, she responded, "If I'm in Timbuktu, I'll fly home to do that."
Pleshette had appeared on Broadway with Tom Poston in 1959 in the play
The Golden Fleecing
, then married him in 2001. She was to receive a star on the Hollywood Walk of Fame next Thursday, which would have been her 71st birthday.