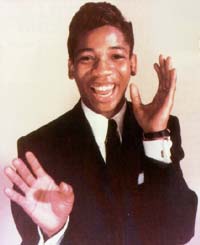 One of the primary themes that has emerged here on "One Poor Correspondent" is how young so many of the rock & roll stars we respect and admire were during the vital points of their careers. Such is the case with the R&B singer Little Willie John.
Little Willie John really was little -- five foot four -- and unlike Elton John or Robert "Sad Eyes" John -- John was his real last name. He is probably best known for making the original "Fever," which was covered note-for-note to great effect by Miss Peggy Lee. (Miss Peggy Lee's other signature song, "Is That All There Is," was written by the famed rock & roll pioneers Leiber and Stoller, and arranged and conducted by none other than Randy Newman.) But Little Willie did it first himself, in the summer of 1956, when he took it to Number One on the R&B charts, and Number 24 on the pop charts. Despite the fact that "Fever" seems the height of sophistication in the hands of Miss Peggy Lee, Little Willie was all of 18 when he made a hit out of it.
Little Willie's last hit came in 1960, with "Sleep": he turned 23 around the time it was sneaking into the Top 20. His music career scuffling, Little Willie decided to go in a new direction in 1966 and knifed a guy after a show in Seattle -- Willie was known to have a few drinks. Convicted of manslaughter, he went to prison in Walla Walla, Washington, where he died of a heart attack in Washington State Prison in 1968. Little Willie John was 30.