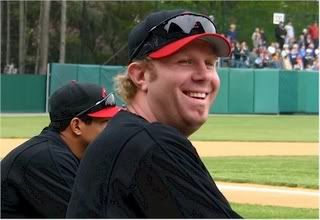 I feel like I need to record this for posterity: I was at the Rockies-Diamondbacks game tonight, and I noticed that when Arizona's galoot of a slugger, Adam Dunn, is on deck, he stands about as close to the plate as is possible without getting hit by a swinging bat. You can't see this kind of thing on TV, only at the ballpark, and I thought you would like to know.
Most players, when they're in the on-deck circle, don't stand in the actual circle but they do stay back toward the fence, or at least on the dirt warning track that encircles the field. But Dunn, who looks as if Will Ferrell is playing him in a movie, makes a point of standing on the grass cutout that encircles the infield. As you can see in the picture below, the grass is fairly narrow at Coors Field, leaving Dunn maybe a dozen feet from the hitter. If he reached out his bat, and the batter reached out his bat from the batter's box, they could touch bats, although that would look totally dorky.
In this game, Dunn was batting behind Conor Jackson, a righthanded hitter, and the Diamondbacks' dugout was on the third-base side, so Dunn was set up perfectly to stand as close as he wanted. It would break several laws of physics for Jackson to be able to foul off a ball that would have hit Dunn, but if Arizona had been on the first-base side, or if Dunn had been following a lefty, it could have been lethal.
I don't know why he does it: He doesn't seem to look at the pitcher any more intently than anyone else, so I can't understand what advantage he would gain. He's too much of a goofball to seek out little advantages like that anyway. Then again, Dunn did homer tonight, so maybe it's working for him.