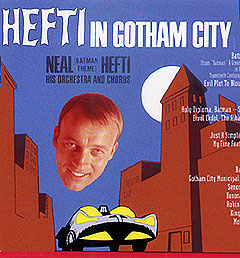 Nebraskan jazzman Neal Hefti, a legendary trumpeter, arranger for Count Basie, and composer of songs ranging from the jazz standard "Cute" to the theme from
Batman
, dead at the age of 85. Mr. Hefti's most salient tune, to my mind, was his theme for
The Odd Couple
, which he wrote for the movie but was used to great effect on the TV show as well.
Hefti joined his first traveling big band two days before he graduated from high school. In 1950 he started arranging for Basie, whom he'd seen performing in Omaha over a decade earlier. When Frank Sinatra formed Reprise Records in 1961, one of the first people he invited into the fold was Hefti, who arranged
Sinatra and Swingin' Brass
, featuring the deathless "Don't Cha Go Away Mad," with Sinatra in full cad mode:
Her kind's a dime a dozen
And that's not the kind I want
Who'd ever dream your cousin
Would wander into that restaurant?

I understand that you feel upset
Whaddya you say that you forgive and forget?
Come on and kiss me just to show you're glad
Baby, baby don'cha go away mad

In fact, Hefti's death was first reported by Nancy Sinatra on the
Sinatra family Web site
.
Hefti's "Batman Theme" went to Number Thirty-Five in 1966. The Marketts' version then hit Number Seventeen in 1968. "Odd Couple Theme" never hit.
You may not think you know "Cute," but believe me, you do. Give it a listen: